Serving: 4 to 8 | Type : Baked Non-Veg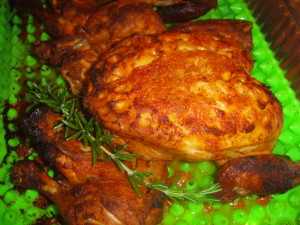 Ingredients:
| | |
| --- | --- |
| Whole Chicken | -1 |
| Red chili Powder | -1 tbsp |
| Turmeric | -¼ tsp |
| Ginger Garlic Paste | -1 tbsp |
| Yogurt | -3 tbsp |
| Lemon Juice | -1 tbsp |
| Chili Chicken Masala | -2 tbsp |
| Salt | -to taste |
| Oil | -1 tbsp |
| Rosemary | -2 string(optional) |
Method:
Remove the skin of the whole chicken and poke it with fork here and there.
Mix all other ingredients except rosemary in a bowl.
Rub the masala paste into the chicken, inside and outside.
Place the chicken in a big ziploc bag or a plastic container.
Marinate the chicken for a minimum of 12 to 15 hours and a maximum of 24 hours in the fridge. If possible, re-distribute the masala on the chicken after about 8-10 hours.
Preheat the oven to 375˚F.
Take out chicken from the fridge and place it on the baking tray.
Then cover the chicken with aluminum foil completely.
Place the chicken on the top rack and bake it for 45 minutes.
Then turn the chicken again, where the chicken breast is at the bottom now.
Cover the chicken again with aluminum foil and bakes for another 45 minutes.

Meanwhile take an oven proof glass bowl, fill it water and keep it on the lower rack.

After a total of 1 hr and 30 minutes, turn the chicken again to where the chicken breast is facing up.
Next place a few rosemary leaves on the chicken and broil on medium for approximately 8 to 15 minutes to make the top crispy.
Then take out from the oven and crave it.
Now enjoy the baked chicken.
Note:
The water keeps the chicken soft and moist.
Covering the chicken with aluminum foil also prevents the chicken from getting too dry, too fast.
We placed the chicken on a silicon meat roasting sheet. This is available in any specialty kitchen collection store in the US.