Serving:4 |Type: Side Dish/Pillayar Nombu
Ingredients for Grinding: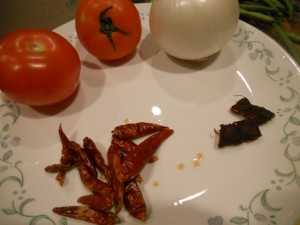 | | |
| --- | --- |
| Red Chili | -10 |
| Onion cubed | -1 big |
| Tomato cubed | -2 big |
| Tamarind | -small marble size |
| Salt | -to taste |
| Garlic | -1 (optional) |
Seasoning:
| | |
| --- | --- |
| Mustard | -1tsp |
| Uard Dhal | -1/2tsp |
| Onion chopped | -2tbsp |
| Tomato chopped | -2tbsp |
| Sesame oil | -4tbsp |
| Garlic chopped | -1clove(optional) |
| Curry Leaves | -few |
Method: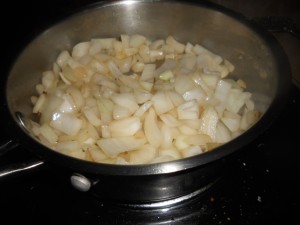 In the pan heat 1 tsp of oil add red chili fry for 30 seconds on medium flame take out and keep it aside.
In the same oil add onion sauté about 1 minute take out and keep it aside.
Again in the same pan add tomato sauté about 1 minute take out and keep it aside.
Now grind all the things mentioned above not very coarse or too smooth. It should have a little texture to it.
Take the pan and heat with sesame oil, add mustard, urad dhal, curry leaves fry it without burning it.
Add onion, garlic sauté well for 1 minute the add tomato sauté well until tomato gets soft.
Now add ground chutney cook it well until it gets thick and raw smell go away.
While cook the chutney you have to cover with lid the pan, otherwise its splatter all over the place.
Turn off the stove.
Serve with idly, dosa and vellai paniyaram.
Note:
You can grind the chuttney without frying the onion, tomato, and red chili  (grind everything in raw) and then season it. Just cook the chuttney for longer afterwards because all the ingredients are raw.
If you live in US,  sauté onion, tomato, red chili before grinding it. If you grind it raw and then try to cook it, the onions will release too much water and the chutney will not thicken properly.