Serving: 2 |Type: Alternative to Rice
Ingredients: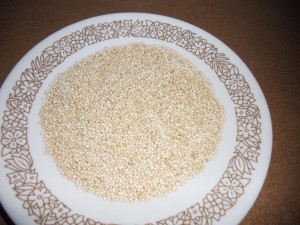 Quinoa                            -1 cup
Water                              -1 ½ cups
Method:
To prepare in the pressure cooker. Simple treated like a rice.
Add 1 cup Quinoa and 1 ½ cup of water in the vessel .
Keep it in the pressure cooker.
Wait for  3 whistles,  then keep it in low heat for about 5 minutes.
Then  turn of the stove.
Cool down the cooker and open it.
Now ready to serve.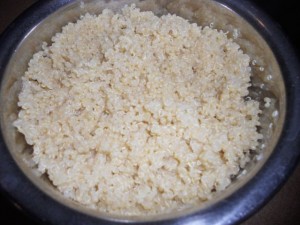 Note:
You can eat it with samba, rasam or curd.
Quinoa is pronounced (Keen-Wah).
The grains are small yellow flattened spheres.
Quinoa contains more protien than any other grains.
To find out more about Quiona please follow this link: http://en.wikipedia.org/wiki/Quinoa