Serving: 2 |Type: Kootu/Poriyal
| | |
| --- | --- |
| Soraikkai(cut cubes) | -1 cup |
| Thur Dhal (3/4 cooked) | -1/4 cup |
| Onion (diced) | -1/4 cup |
| Tomato (chopped) | -1 |
| Green Chili | -1 |
| Turmeric Powder | -2 pinches |
| Chili powder | -1/4tsp |
| Coriander Powder | -1/4tsp |
| Salt | -to taste |
| Water | -3/4 cup |
| Coriander Leaves | -1tbsp |
Seasoning:
| | |
| --- | --- |
| Oil | -1tsp |
| Mustard | -1/2tsp |
| Urad Dhal | -1/2tsp |
| Cumin | 1/4tsp |
| Asafotida | -1 pinch |
| Red Chili | -1 |
| Curry Leaves | -few |
Method:
Pressure cook the thur dhal with ½ a cup of water,  pinch turmeric and asafoetida. Let one whistle come, (which should make it half-way cooked),  then keep it in low heat for 5 minutes  and turn off the stove.
Meanwhile in another vessel, add water, soraikkai, all powders, green chili and half of an onion. Mix it and cook well for about 5 minutes on medium flame until vegetable get soft.
Now add salt and add the half cooked thur dhal and mix it well.
Take another pan heat with oil, add the seasonings and fry well without burning.
Then add the remaining onion sauté for one minute and the add tomato sauté well until tomato get smashed.
Add it into the kootu, cook for 1 minute and turn off the stove.
Garnish with coriander leaves.
Serve hot with white rice or chappati.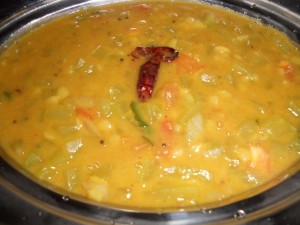 Note:
You can add 1 tbsp of grated coconut when frying the seasonings.
You can add 1 tbsp Bengal gram dhal while boil the vegetables.
You can make this kootu with cabbage, chowchow and white pumpkin.