Serving: 2 ½ quarts | Type: Pickle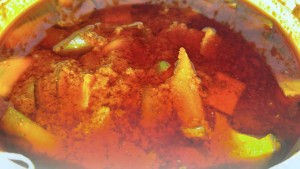 Ingredients:
| | |
| --- | --- |
| Raw Mango | -8 cups (about 4 medium size mango) |
| Garlic (Optional) | -1 pod (peeled) |
| Black Mustard | - 1/4 cup |
| Yellow Mustard | -1/4 cup |
| Salt | -1/4 cup |
| Kashmiri Chili Powder | -1/4 cup |
| Red Chili Powder | -1/4 to -1/2 cup |
| Cooking Oil | -1 ½ cup |
| Sesame Oil | -1/4 cup |
Method:
Wash and pat dry the raw mangoes.
Then cut the raw mangoes into 2 inch dies with the shells.
Spread it out on a tray, and allow it to air dry for a few hours. (If you can dry it in the sun, it is even better).
In a mixie, powder the two types of mustard seeds.
Then in the same mixie add the chili powders and salt and grind it up so everything is mixed equally.
Place this powder in a mixing bowl and add the oil and mix everything well.
Next add the sun dried raw mangoes and garlic.
Again mix it thoroughly until all the mangoes and garlic pieces are coated with the chili mix.
Pour this into an air tight container and keep it in a cool place for four days.
Do not open for four days.
On the fourth day, open the air tight container, mix it once again and add another ¼ cup of sesame oil.
Then close it for another 4 days and keep it in a cool, dry place.
After another four days (a total of 8 days from the start), open the air tight container and mix the pickle one more time.
Now it is ready to be eaten.
After each use place it in the fridge for a longer shelf life. It was stay fresh for longer time.
Note:
For the oil, you make the whole pickle with just sesame oil or the whole pickle with just cooking oil.
Make sure the raw mangoes are very firm and sour. This will make a very good pickle.
The Kashmiri chili will give it a very bright red color. If you cannot find it, then you can add just regular chili powder. However, the color maybe more brown than bright red.