Serving: 30 pieces |Type: Dessert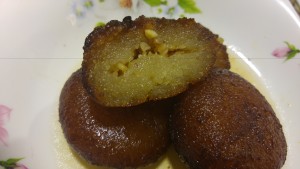 Ingredients:
| | |
| --- | --- |
| Readymade Gulab Jamun mix | -1 Box (500g) |
| Mixed nuts and dried fruits | -½ cup (chopped) |
| Sugar | -as per instruction |
| Water | -as per instruction |
| Rose essence | -¼ tsp |
| Oil | -for frying |
| Milk | -for kneading |
Method:
Take a gulab jamun mix in the bowl, add very little milk and knead it into soft dough.
Meanwhile heat a deep pot, add sugar and water and bring it to a boil.
Boil the sugar syrup for 10 to 15 minutes in medium flame, just like a simple syrup.
Take it off heat and add the rose essence.
Also chop your preferred nuts and dried fruits (I used Almonds, cashews and dates) and keep it aside.
Take the dough and roll it into a golf ball sized balls and stuff it with the mixed nuts and dried fruits.
Then close the dough and pat it flat.
Take a pan heat with oil on medium flame and then fry the pieces in low heat.
In each batch, place 5 to 6 pieces and fry it.
Then take out the fried makkan peda from the oil and soak it in the sugar syrup.
Allow it soak overnight.
Serve it warm as it is or with ice cream.
Note:
While frying the jamoons be careful with the flame. Otherwise very quickly it will cook outside, inside it won't cook.
You can see the direction on the readymade pocket and follow the measurement.