Serving: 12 pieces| Type: Dessert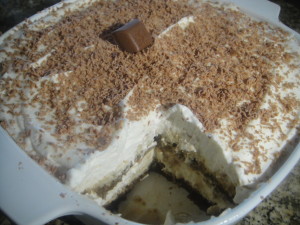 Ingredients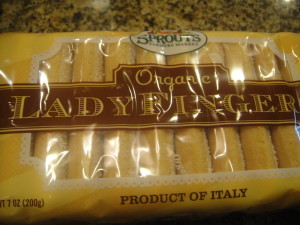 | | |
| --- | --- |
| Heavy whipping Cream | 1 pint |
| Mascarpone Cheese | 250g (1 tub) |
| Sugar | 3/4 cup + 2 tbsp |
| Instant strong coffee | 2 cups |
| Lady Fingers | 175g (1½ package) |
| Chunky Milk Chocolate | As needed for grating |
Method
Mix the coffee mixture with 2 tbsp coffee granules and 2 cups boiling water and then add the 2 tbsp of sugar, put the coffee into a shallow dish and keep it aside.
Put the whipping cream, mascarpone, milk and sugar in a large bowl. Whisk until the cream and mascarpone have completely combined and have the consistency of thickly whipped cream.
Get your serving dish ready.
Dip in a lady sponge fingers at a time, turning for a few seconds until they are nicely soaked, but not soggy.
Layer these into your dish with enough lady fingers to cover the bottom of your dish.
Then spread over the creamy mixture.
Using the coarse side of the grater, grate over the chocolate, covering the creamy mixture.
Then repeat the next layers of lady fingers (you should use up all the coffee).
Next add the creamy mixture and you should use up all of the mixture.
Cover with plastic wrap and chill for a few hours or overnight.
This can now be kept in the fridge for up to 2 days.
Before serving, grate chocolate over the top layer and then serve cold.
Note:
American coffee powder will give you stronger coffee flavor than Indian Instant Coffee (like Bru).
You can use either Instant coffee powder or filter coffee.
Adding the two tbsp of sugar will give you extra sweetness.
Add a bit of vanilla essence in the cream mixture, if you want the smell of traditional cake.