Serving: 25 – 30 pieces| Type: Sweet/Deepavali Special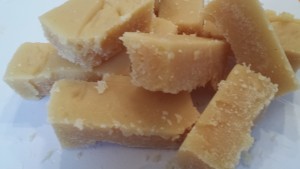 Ingredients:
| | |
| --- | --- |
| Besan Flour (Kadalai Mavu) | -1 Cup Heaped |
| Sugar | -3 Cups Heaped |
| Ghee | -2 Cups |
| Oil | -1/2 Cup |
| Water | -1 ½ Cups |
| Salt | -a pinch |
Method:
First find three sets of pans. One broad non-stick pan for mixing mixture, one for hold the ghee oil and finally a tray for pouring the Mysore Pak in.
In the broad non-stick pan, add the besan flour and dry roast on medium flame until the raw smell is gone, but make sure the color doesn't change.
Then sieve the roasted besan flour and set it aside.
Next in the same broad pan, wipe it clean and then add the water and sugar.
Boil the sugar mixture until you get a one string consistency.
Meanwhile, lightly heat the ghee and oil together in another pan and also have you tray greased with ghee.
After you have reached the one string consistency with the sugar syrup, slowly add the roasted besan flour and whisk it into the sugar syrup.
After all the besan flour has been completely incorporated into the sugar syrup, start adding the ghee a ladle at a time.
Keep mixing the mysore pak while adding a ladle full of ghee until you have used adding all of the ghee mixture into the mysore pak.
Finally the mysore pak will start becoming frothy on the edges and toward the center of the pan too.
When it is nice and frothy, you should pour the mixture into the greased tray.
Be careful, as the mysore pak will still keep bubbling as you pour on the tray.
Allow it cool for 10 minutes.
Then lightly score the mysore pak with a thin knife.
Again allow it to cool for another 10 – 15 minutes, Then either flip the mysore pak out into a plate, or cut the mysore pak in the tray and remove a piece at a time.
Enjoy a few pieces when the mysore pak is warm and then enjoy the rest when it has cooled down to room temperature.
Note:
Do not use olive oil.
Final few minutes of the mysore pak mixing is critical, please keep mixing it and remove it at the optimal time. Otherwise the mysore pak will be very dry and hard.