Serving:  16 to 20 pieces | Type: Baked Dessert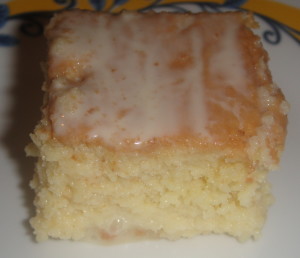 Ingredients:
| | |
| --- | --- |
| All-purpose Flour | 1 ½ cups |
| Baking Powder | 1 tbsp |
| Large Eggs (Separated) | 4 |
| Sugar | 1 ½ cups |
| Whole Milk | ½ cup |
| Condensed Milk Can | 1 can |
| Evaporated Milk | 1 can |
| Heavy Cream | 1 cups |
| Vanilla extract | 2 tsp |
| Nonstick Cooking Spray | As needed |
Method:
Preheat oven to 350F
In medium bowl, mix flour and baking powder and set it aside.
In a large bowl, add the separated egg whites and whisk it until it becomes frothy.
Then add the sugar and whisk it to a stiff peak.
Next add one egg yolk at a time and incorporate it into the sugar mixture, until all four egg yolks are added.
Add 1/3 of the flour mixture and add half of the whole milk and mix it through.
Next add another 1/3 of the flour mixture and mix it well.
Finally add the last 1/3 of the flour mixture along with the rest of the whole milk and mix it through again.
Spray a baking pan (I used an 8in x 8in pan) with non-stick spray and dust it with a bit of flour.
Pour the cake batter and place it in the pre-heated oven.
Bake for 30 – 40 minutes and test it by inserting a toothpick in the middle, it should come out clean.
Meanwhile, mix the condensed milk, evaporated milk, heavy cream and vanilla extract together and set it aside.
Allow the cake to cool down for 10 minutes and flip out into another platter that has high sides.
Pierce the top of the cake with a thick skewer.
Slowly pour the milk mixture over the cake while the cake is warm and allow it to absorb all of the milk mixture.
Cover the cake and refrigerate it overnight.
Notes:
We choose not to frost the cake; here is the recipe for frost:

In a bowl combine, 1 cup heavy cream with 1 tbsp – 3 tbsp of powdered sugar (depends on your sweetness taste).
Then beat this with an electric whisk to a stiff peak.
Spread this over the refrigerated cake.