Serving: 4 to 6 people | Type:  Pasta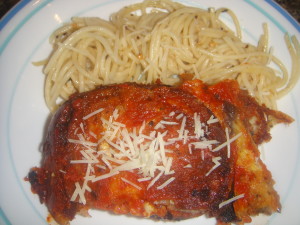 Ingredients:
Eggplant Parmesan
| | |
| --- | --- |
| Eggplant (Big) | 1 |
| Marinara Sauce | 1 bottle |
| Bread Crumbs | -For coating |
| All Purpose Flour | -For coating |
| Egg (beaten) | -2 |
| Italian herb mix | -to taste |
| Red Chili flakes | -to taste |
| Parmesan Cheese | -As you desire |
| Mozzarella Cheese | -As you desire |
| Salt | -some for sprinkling |
| Oil | -For deep Frying |
Spaghetti
| | |
| --- | --- |
| Spaghetti | ½ lb |
| Garlic | 5 cloves |
| Mixed Italian Herb | -2 tbsp |
| Red Chili Flakes | -to taste |
| Olive Oil | -5-6 tbsp |
| Salt | -to taste |
Method:
Eggplant Parmesan
Cut the eggplant in 1 inch disks.
Place it on a clean towel and sprinkle each disk with salt (the salt helps in removing some of the moisture from the eggplant and makes it crisper when fried).
Take 3 separate plates; in the first plate place all-purpose flour.
In the next place add the beaten egg and in the third plate mix the red chili flake and the Italian herbs with the bread crumbs.
Then heat a pan and add oil for shallow frying.
Then take an eggplant disk and pat off the excess moisture.
Coat the eggplant in all-purpose flour first, followed by the egg and finally in the bread crumbs.
Then place it in the oil and fry until both sides are golden brown.
Then remove it from the oil and place it on a clean paper towel.
Repeat this until all the eggplants disks are then.
Preheat the oven to 400

F

In a bake-proof dish, spread a thin layer of marinara sauce.
Then place a single layer of fried eggplants.
Then top with parmesan cheese, as little or as much as you want. I sprinkled about 3 tbsp of parmesan.
Keep Repeating step 13 and 14 until you use up all the fried eggplants.
Then for the top layer, sprinkle it with or mozzarella cheese.
Then cover it the dish with aluminum foil and place it in the oven.
Place it for 25 minutes.
Then remove it from the oven and remove the aluminum foil.
Check to see if the cheese has melted, if not then place in the oven again for another 10 minutes until the cheese melts.
Then change the oven setting to broil and allow it broil for 5 minutes, until the top is bubbling.
Spaghetti
Heat a big pot with water and salt.
Then add the Spaghetti.
Cook the spaghetti until is tender.
In a blender, add the garlic and about 3 tbsp of olive oil and grind it until the garlic is ground.
Then add the red chili flakes and mixed Italian herbs; give it a quick whirl in the blender.
Finally heat a pan with some more olive oil and then add the ground garlic oil to it.
Sauté it for a minute, then toss in the cooked spaghetti.
Mix it until all the spaghetti is coated with the garlic oil.
Remove from heat and serve with the eggplant parmesan.