Serving: appx. 15 pieces| Type: Pasta

Ingredients:
| | |
| --- | --- |
| Tomato pasta sauce | -1 bottle |
| low-fat ricotta cheese | -1 tub (15oz) |
| Grated Parmesan cheese | -3/4 cup |
| Lasagna noodles | -1 box (16oz) |
| Mushroom (cut thin slices) | -1 box |
| Onions (cut length-wise) | -1 cup |
| Bell pepper (cut length-wise) | -1/2 cup |
| Spinach (roughly chopped) | -1 bunch |
| Dried basil leaves | -½tsp |
| dried oregano leaves | -½tsp |
| Dried chili flakes | -1tsp |
| Italian seasoning (optional) | -½tsp |
| Mozzarella cheese | -as preferred |
| Olive oil | -2tbsp |
| Salt | -as needed |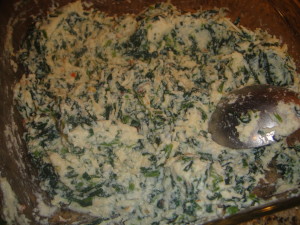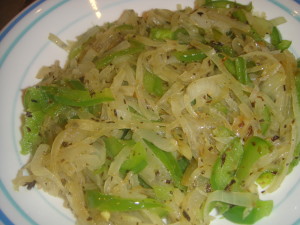 Method:
In one pot start boiling the lasagna noodles according to the packaging directions and set it aside.
While the noodles are cooking, get another pan to sauté the vegetables.
Heat the pan with oil, add the onions and after 2 minutes add the bell pepper.
To the bell pepper and onions add salt, followed by basil, oregano and Italian seasoning.
Remove the onion and bell pepper before it gets soft. It should remain crunchy. Set it aside
In the same pan, add some more oil and sauté the mushrooms with some salt. Allow all the moisture to disappear.
Remove from heat and set aside.
Finally, add oil another time in the same pan and sauté the spinach. Allow all the water to cook off. The spinach should be dry. Set this a side to cool.
In bowl, mix the spinach with ricotta cheese, parmesan cheese and dried oregano. Set aside.
Preheat oven to 425◦
Get a glass baking tray, (I use a 13X9in tray, but it is your choice).
First spoon the pasta sauce in the bottom baking tray, then layer the lasagna noodles on top of it (I use used about 3 sheets).
Next spoon over the ricotta cheese mixture. Then layer it with onion, bell pepper and mushroom. Then spoon over some more pasta sauce.
Repeat these layers 2 more times. Finish with a layer of noodles.
To the top of the noodles, spoon over tomato sauce and then sprinkle the Mozzarella cheese over it, you can sprinkle as much as you like.
Cover the tray with aluminum foil.
Place in the oven for 40 minutes.
Then remove the aluminum foil and place it in broil for 3 minutes or until the cheese is nice and golden brown.
Allow it to rest for 10 – 20 minutes and it is ready to be served.
Note:
For the pasta sauce you can use any flavor. I used green pepper and mushroom tomato sauce.
You can assemble the lasagna ahead of time and place it refrigerator, until it is ready to heat.