Serving: 2 |Type: Tiffin
Ingredients:
Oats -1 cup
Water -1 1/4 cup
Onion -1/2
Green Chillies -3
Mixed Vegetable -1 cup (optional)
Salt – to taste
Seasoning:
Oil -3 tblsp
Mustard -1/2 t sp
Urad Dal -1/2 t sp
Channa Dal -1 tblsp
Asafotida – pinch
Curry leaves – Few
Coriander leaves -Few
Method:
1. Take the pressure cooker heat it with oil.
2. Add seasonings.Let  the mustard splitter.
3. Add onion and chilli cook it for 2 minutes.Then add Oats.
4. Toast the oats for 3 minutes for medium heat.
5. Then add the vegetables,water and salt.
6. Lets keep it for 3 whistle and simmer for 5 minutes.
7.Cool the cooker and open it.
8.Now ready to serve.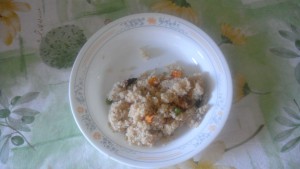 Note:
You can serve with coconut chutney.
You can serve with 1 teaspoon of Ghee.
You can add 2 tablespoon of coconut while uppma is cooking.